We're quids in on Day 14 of the NWAG Archaeology Advent Calendar!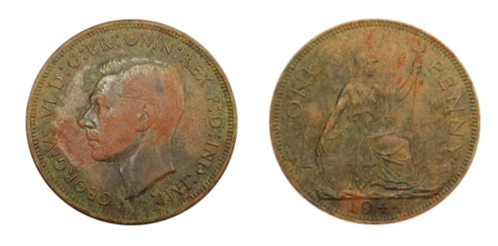 This coin was found back in 2017 during our test pit excavations at Furnace Farm, Shelsley Walsh, and is a George VI penny dated 1944. It's typical of the 'small change' that circulated in Britain before decimalisation in 1971, and would have been just enough to buy a couple of sweets at a corner shop.
Because they can be so closely dated, coins are great tools for archaeologists, but we don't often find them during excavations – just as now, people in the past tried to avoid losing them! In this case, the coin's presence in a demolition layer helped us pin down when exactly the cottages at the site were demolished, which must have been sometime in the post-war period. Not bad for throwaway change!
We published a report of our excavations at Furnace Farm in the Autumn 2022 edition of the Worcestershire Archaeological Society's biannual publication, the Worcestershire Recorder. It's available in libraries across the county, so why not check it out?