For Day 23 of our Archaeology Advent Calendar, we're taking a wintry trip overseas!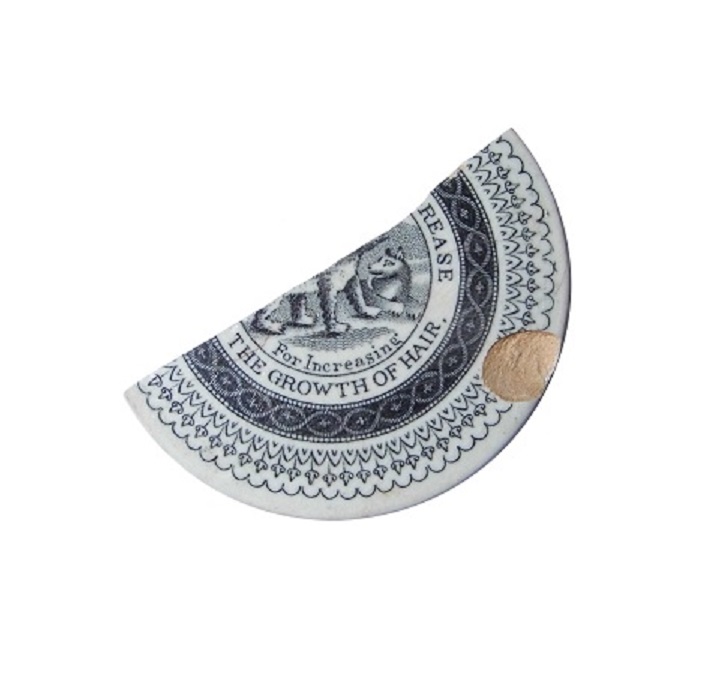 This glazed pot-lid was found during our excavations at Winnall Mill in Ombersley. Though broken in two, it still displays a distinctive black transfer-printed design, featuring two brown bears and the words '[GENUINE RUSSIAN BEARS] GREASE / For Increasing / THE GROWTH OF HAIR'. This particular pattern dates to c.1870, and complete versions are still known in antique collections!
But why on earth would anyone want a pot of 'Russian Bears Grease'? Vanity, of course! From the 17th century onwards many Englishmen believed in the efficacy of bear fat as a tool for reversing baldness, and by the mid-19th century vatloads were imported from Russia to satisfy the British demand for anti-hair loss products. Old newspapers show just how widely available the stuff was: in 1889, for example, prospective buyers could drop by the City Drug Stores at 1 Broad Street, Worcester, and buy a pot for as little as 1s. 8d. – just over £6 in modern money.
Despite its availability, there is no evidence that the treatment actually worked. It did, however, smell absolutely terrible – so few could have been too miserable when it fell out of popularity after the 1880s! Nevertheless, the lid gives us a tangible link to the unusual world of 19th century cosmetics, as well as an important illustration of our county's international connections during the Victorian era.
We're currently writing up the full report on our excavations at Winnall Mill, and hope to be able to share more information in due course. Until then, why not check out some of our other Reports, available via this website!