For Day 17 of our archaeology Advent Calendar we're diving back into the toy box!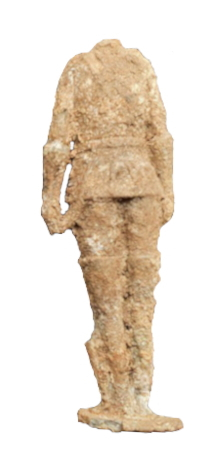 This miniature toy soldier comes from our 2017 test pit excavations at Furnace Farm in Shelsley Walsh. It dates to the late 19th or early 20th century, and was found on the site of two old labourer's cottages. Toy soldiers were extremely popular 'boy's toys' in the late Victorian and Edwardian era, and by 1914 as many as 11 million figures were produced in Britain each year. Presumably it's a plaything that belonged to one of the cottages' former (and younger!) inhabitants – but since it's made of lead, we hope they didn't stick it in their mouth!
We published a report of our excavations at Furnace Farm in the Autumn 2022 edition of the Worcestershire Archaeological Society's biannual publication, the Worcestershire Recorder. It's available in libraries across the county, so why not check it out?